A more updated, #collected look is in when designing your dining room today.  We are taking a more #eclectic approach.
Grandma's matchy, matchy look is definitely out.  Dining tables are as varied and different as rugs.  Your space will dictate the type of #dining table you choose.
Break up the repetition.  Mix and match seating. Keep the same style but mix up the colors
A mix of fabrics, patterns, and art items characterize the eclectic style.  Keep similar lines throughout.
So where do you start?  Don't worry I will guide you in the right direction.
A Few Basic Rules
Do you have a designated dining room?  If so measure the entire room.  It is a general rule to have at least 36 inches from the edge of your table to other furniture or the wall.  This provides enough space for someone to walk behind the occupied chairs. It also allows room to open a door on a nearby cabinet.   Most dining tables are 30″ tall.
Now take into effect the location of the dining room light fixture. You will need to center the table underneath the light fixture.
Chair and chair arms should be able to slide under the dining table with ease.  Chair height is generally 18 inches (from the floor to the seat).
 The different qualities to consider when choosing chairs:
height
width
color
material
arms vs armless
upholstered seat vs hard seat
No Designated Dining Room, No Problem.
You do not have a designated dining room area, no worries.  You can create one. Even in a tiny space, the right dining table can look spectacular.
Find a space to accommodate a small table and two chairs.  Add a rug, throw pillows, hang a  lamp and voila, your new eclectic dining area.  The wall is definitely calling for funky artwork.
Find balance in scale and symmetry.  Similar lines create harmony.
Use home accents like rugs, paintings, art and throw pillows to bring mismatched into any room.
Stay in your comfort zone, while easing into Eclectic
If this takes you out of your comfort zone, start small.  Ease into the mismatched look. Add upholstered wingback or parsons chairs to the end of the table for a touch of drama.
While a lot more interesting than a matching set, the result will still be symmetrical.  This will give your dining space that gracious, classic composed look.
Many interesting ideas to play with
You can stick to one shape and vary the color.  Alternate only the armchairs, keep the consistent color but have different shapes, bench + chairs.
There should always be a common thread that connects your seating.  Even mismatched chairs will have a cohesive look when unifying color and undertones.  Don't forget the proportion.   All chair seats must be of the same height.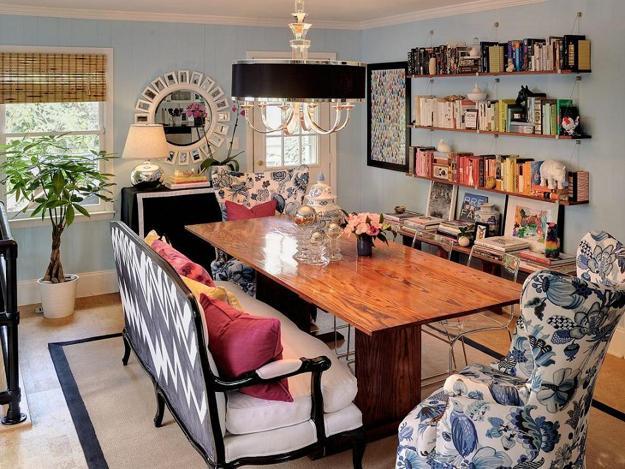 Textures, Color, and Shape, Mix It Up
Today's eclectic style in decorating allows you to have fun experimenting. With such a variety of choices plus your own personal style ideas, the sky is the limit.   You can create a genuine, unique, modern look that reveals your own individual style.
The eclectic style gives fantastic inspirations. You can blend various textures, interior colors, and shapes into stunning dining rooms.
The texture is key to combining looks. Use the texture at least three times or more throughout different spots in your home for a cohesive look.
Pick a go-to color to serve as a unifying factor, always returning to it when decorating.  Eclectic does not mean anything goes.  Don't confuse an eclectic, layered look with overdecorated and unbalanced.

Benches Are In, Great For Families
Don't be afraid to combine several styles of chairs.  Benches combined with two or three chair types are making a statement.  It makes your dining room feel more personal and lived in.
Your dining room can gain warmth and depth through the use of texture and pattern.
Use Sheepskin and faux fur throw on your bench or chairs to warm up your space. This also creates visual and textural interest.
Layering rugs is another fun idea for the #eclectic dining space.  The ideas for this project are endless and you can have fun mixing in your own personal style.
To recap the  ground rules:
Keep similar lines throughout
Find balance in scale and symmetry
Keep the same style but mix up the colors
Keep the color uniform but mix up the style
Don't forget the proportion
All chair seats must be of the same height.
The texture is key to combining looks
Now go have some fun creating.