Summer has been a long time coming and we have had a very stressful spring.  Covid-19 has put us all in a spin.  We have had to adjust to living in a way that we never imagined possible.  Segregation from our family and friends.   Cooped up inside our homes and trying daily to adapt.
Summer is right around the corner.  We have to stay optimistic. As I write this article it is only 3 degrees in mid-May.  Our situation is changing daily so we may have that curve flattened enough by summer to at least enjoy some socializing through social distancing.
Sometimes we need a little pick me up reminder.  Display that favorite summer dress where you can see it every day.  It will constantly remind you of warmer days ahead.  A reminder also that you must tackle the sometimes "overwhelming" chore of switching your closets out for the summer season.
Let's get ourselves prepared for summer while we are waiting for the temperatures to warm up.  We feel so much better when we know we have our closets organized.  We feel in control and ready to deal daily with what comes our way.
Switch out your Wardrobe (Spring for Summer)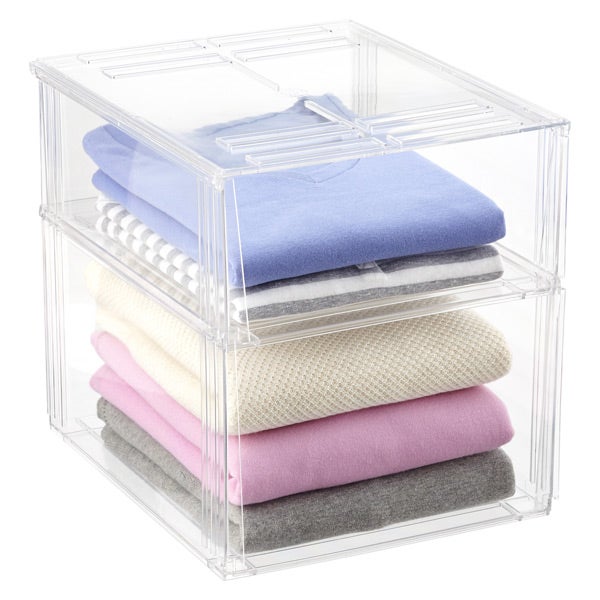 Stackable shirt & sweater bins from "The Container Store"
Take everything out and make separate piles.
Launder or dry-clean items, everything goes packed away clean ready for next season.
Throw out ratty clothes and donate items that you have not worn in the last year.  This is the mantra:  Say it out loud with me "Out Out & Away, garbage pile or donation pile".    I hear your voice saying:   5 more lbs and I can fit into this dress.  Don't listen.  Don't get nostalgic.  Be unrelenting and stay the course.
I use see-through bins so I can see at a glance what is inside.  Check for sales at your local Hardware store. The bins are usually on sale in May.
Label your bins:  Sweaters, Sweatshirts & Sweatpants, Dress Pants, Blouses, Dresses,(if you have extra space in a closet not used often, hang your dresses there).  If not, no worries just fold them nicely and put in the bin labeled Dresses.
 If you live in a climate where you can still get those brisk days, even cooler evenings in summer, keep out a few warm sweatshirts and sweaters.
 The Boots Have to Go, Make room for Your Sandals
Clean and polish your winter boots before storing them for the season.   You will give yourself a big "Thank-You" when cold weather arrives unexpected and you need those boots in a hurry.  Get a good boot cleaning kit.  A few to check out:
Otter Wax Leather Care Kit
KIWI Suede & Nubuck care kit
Bickmore boot care kit
Trader Joes Virgin Organic Coconut Oil
You will need:
Piece of old cloth
Horsehair brush
Slightly damp rag
Depending on the fabric and durability, different cleaning methods will apply
Place the boots on an old piece of cloth.   Use a brush to lightly buff the boot,  removing loose dirt and salt. Remove visible dirt with a slightly damp rag.  Remove laces if applicable and wash in warm soapy water.  Follow the directions on your boot cleaning kit to clean your boots.
Before packing away long boots:
Stuff newspaper, empty egg cartons or a pool noodle in the leg  to help keep their shape
Place them in a large shoebox to protect them, make sure toes are pointing out
Place shoe/boot deodorizers in your boots before storing
Leather and suede need to breathe, don't store in plastic
Switch out your winter handbags for your pretty light summer light ones
Handbags are so fun.   We also have lots of them.  Who can resist?  They come in so many colors and shapes that we often buy 2 at a time.  Make room in your closet for your very favorites.  Out of sight out of mind.  We need to see them at a glance so we can do the switch out with our summer wardrobe. Trying pairing them with your favorite sandals.  This way when you reach for the sandal, you will grab the perfect bag as well.
Clean Out The Linen Closet
Pack away the flannel sheets, heavy blankets, and quilts.   Store in bins for next winter.  I like to put bounce sheets in with mine to keep them smelling fresh.
Pack away heavy placemats, tablecloths, and napkins to make room for your spring and summer table linen.
Bring out your cotton blankets and light throws
Switch out heavy duvet covers for your light cotton ones.
Switch out heavy towels, bring out your summer towels and beach towels
Hallway Coat Closet
Take all heavy winter coats out of the closet.   Clean coats before storing them for the winter. Send them to the dry cleaners or wash them in an oversize washer before packing away.   Bring out your spring jackets and coats(for colder days you can always  wear your favorite warm sweater underneath your spring jacket
Remove all winter hats and mitts & scarfs, separate and put into bins
Bring out all those pretty scarves you have been collecting, hang them on your scarf hanger so they are available when you need to spruce up that jacket or coat
Your closets are organized and ready for summer.  Now you can start enjoying the season.  It is so easy to look great every day with your organized closets.
Switching up your table for that light and airy summer look in now a breeze.  The bathroom looks great with the lighter linen and setting up your table for those lovely brunches is now a snap. Don't you just feel so great?  A job well done.  Now go have some fun.  You deserve it, that was a lot of determination and hard work.